Odds staking ladder
Odds staking ladder is similar to the points system that you use when placing your tips. Smaller number of points for selections with high odds and larger number of points for selections with low odds. This staking plan allows you set fixed price ranges and stake that will be used if selection price is in that price range.
For simplicity we decided to use three price ranges, but most betting bots allow you to set as many price ranges as you like. Price ranges that we use in our example are:
1.01 - 2.0, stake for low odds, usually favourite selection
2.0 - 4.0, stake for medium odds, usually second or third favourite selection
4 - 1000, stake for outsiders, selections with low chances of winning
Chart shows change of stake and overall profit as bets win and lose. You can download worksheet and enter your own odds and win/lose sequences to get estimates on potential profit and loss.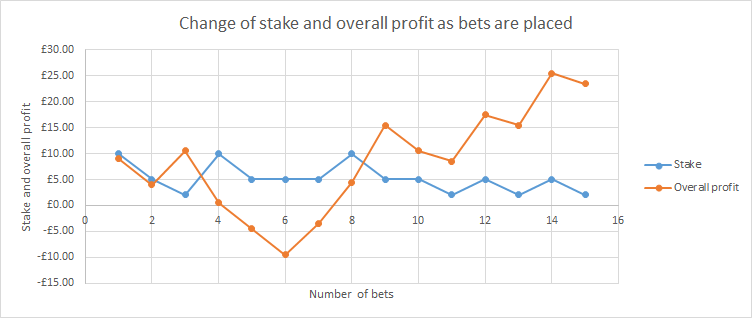 Example
Bet
Stake
Odds

W-Win,


L-Lose
Single bet profit
Overall profit
1
£10
1.9
W
£9.00
£9.00
2
£5
2.5
L
-£5.00
£4.00
3
£2
4.25
W
£6.50
£10.50
4
£10
1.95
L
-£10.00
£0.50
5
£5
3.65
L
-£5.00
-£4.50
6
£5
2.95
L
-£5.00
-£9.50
7
£5
2.2
W
£6.00
-£3.50
8
£10
1.8
W
£8.00
£4.50
9
£5
3.2
W
£11.00
£15.50
10
£5
3.45
L
-£5.00
£10.50
11
£2
4.8
L
-£2.00
£8.50
12
£5
2.8
W
£9.00
£17.50
13
£2
5.0
L
-£2.00
£15.50
14
£5
3.0
W
£10.00
£25.50
15
£2
9.4
L
-£2.00
£23.50